As England begins its second lockdown, and Covid-19 cases rise, what has changed to give more protection to Filipino and BAME healthcare and care workers? Tinig UK is trying to find out – especially as more Pinoys join the NHS.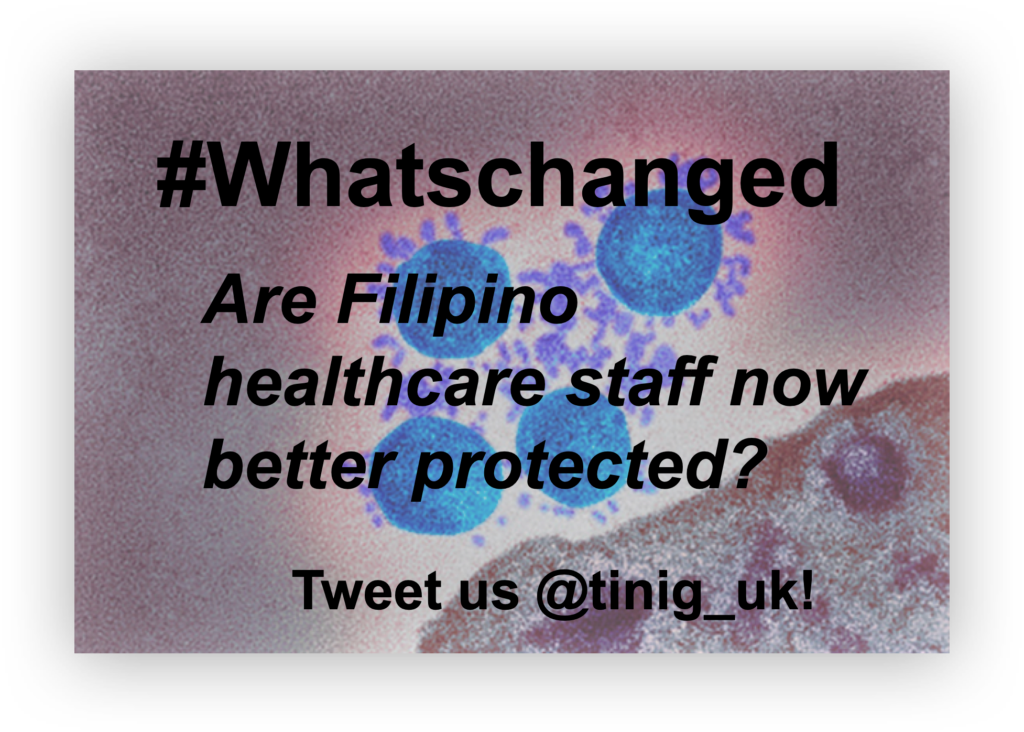 At least 57 Filipino healthcare workers died at the height of the coronavirus pandemic early this year – around a fifth of total NHS worker deaths. While the reasons for their deaths are still unknown, one of the main reasons offered by colleagues and families is that Filipino healthcare workers were unable to speak up.
Anecdotally, many Filipino nurses felt they could not say no to their managers who were asking them to work extra shifts or work in Covid wards. In relation to this, those who were vulnerable were being assigned to Covid-19 wards but they could not say no to these requests.
Getting the confidence to speak up at work
"I have learned to speak out and lead a team, but some Filipinos who haven't been here for very long are still very much in the Filipino culture of keeping quiet and being extremely hardworking."
That's what one anonymous Filipino respiratory nurse told The Nursing Standard earlier this year. So have things improved since then?
The picture is mixed, based on recent tweets and conversations we have had with a few Filipino healthcare staff. However, there is evidence to suggest a greater willingness among some Filipinos to talk about problems and to encourage others to do so too.
We recently heard from Oscar (not his real name), a Filipino nurse manager who wanted to speak anonymously, that things have started to change in their hospital. The management have held a couple of "listening events" for BAME staff. These are meetings put in place by the NHS to give minority ethnic staff the chance to express their views on key topics and priorities.
"But Freedom to Speak Up (FtSU) Guardians are still made up of mainly white British staff," Oscar said. Guardians work with staff to encourage them to 'speak up' without fearing the consequences. He is unsure how widely these listening events for BAME staff are being carried out by the NHS.
In May, Sir Simon Stevens wrote to NHS chief executives to remind them of their duty to allow NHS workers to speak up about problems impacting both patient care and worker wellbeing.
"All our staff should feel able to raise concerns safely," he wrote. "Local Freedom to Speak Up Guardians are able to provide guidance and support with this for any concerned member of staff."
More Filipinos in healthcare speaking up publicly
At the height of the pandemic, Filipino healthcare staff have started giving interviews to the British media to share their experiences. Since then, more Filipinos in healthcare have started getting on social media to express their views on issues about race, equality and diversity at work.
Lately, Filipinos in healthcare have also started being recognised for their contributions, giving them the opportunity to speak up. BAME lead at Royal Bournemouth and Christchurch Hospitals NHS Foundation Trust, Minerva Klepacz – who was awarded a British Empire Medal (BEM) for her services to nursing during the Covid-19 – spoke about offering support to BAME staff.
"People from a BAME background are more affected by Covid-19, I wanted to offer support to other staff," she tells the Bournemouth Echo. "Most of them don't have their family here so we can be a family for them. It's about listening and empowering them to speak up."
Other healthcare leaders, including Francis Fernando, have also gained new-found prominence, speaking to the media about the vulnerability of Filipinos on the front line.
"The community is rallying to help each other where we can," Nursing and Midwifery Council panel member, Michael Duque told The Guardian earlier this year. "We're also encouraging people to know that they can speak up about their rights to the correct form of PPE, as organisations like the Royal College of Nursing and Unison have said."
As Filipino nurse and co-founder of www.filipinouknurse.com, George Bermudez tells Veronica Pedrosa in the Philippine Star: "There should be a bit more understanding on how and why we work, and how we can both help each other."
New beginnings?
Filipino Nurses Association, Philippine Nurses Association UK and Filipino UK Nurse have been welcoming several cohorts of new nurses arriving in the UK to work in the NHS. These associations are giving new nurses their own insights about the UK health service.
There are some 40,000 vacancies for nurses in the NHS in England alone and Prime Minister Boris Johnson has pledged to recruit 50,000 more at the start of his term last year.
Last year, nurses from the Philippines and India accounted for 8,944 of the new joiners from the rest of the world. Despite international travel restrictions brought about by coronavirus, Filipino nurses continue to be recruited by the NHS.
It remains to be seen if they will fare better in the second wave.
Are you a Filipino healthcare worker? Would you like to share your own story? Do get in touch and help other Filipinos know what the situation is where you work.