At this time last year, I was filled with excitement as our web designer and I remotely made the final checks before the Tinig UK site went live.
Several weeks earlier, I had managed to find a bunch of talented and generous individuals who were keen to volunteer as writers and sub-editors for an online news site I had just set up for UK-based Filipinos. Earlier still, I had started a Facebook page aggregating news stories as the pandemic raged.
It had all started because I – and others – had been frustrated that the UK didn't have a site that offered reliable information on how Filipinos – particularly healthcare workers – were being affected by the pandemic. I was part of the government's furlough scheme, and I felt desperate to help our community make sense of what was going on. Furlough had given me an opportunity to act and respond to a crisis.
By August 2020, 57 Filipino healthcare workers had been reported by the British media to have died of Covid-19. I remember being frustrated that no one was looking into this issue more closely. And that was what spurred me to start Tinig UK – to tell the untold stories of Filipinos in the UK at this unprecedented moment.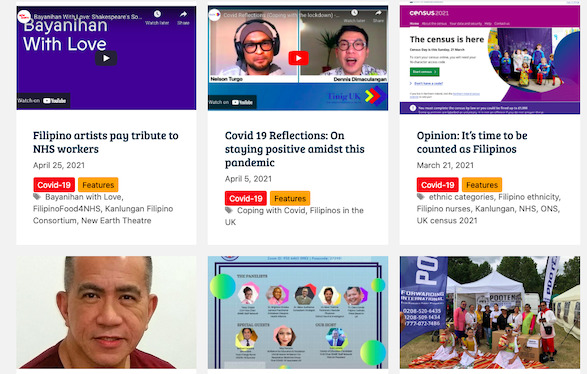 Despite very limited resources, our volunteer contributors and editors saw the value of what we aimed to do and signed up to this mission. After two months of gathering and writing stories, and many late nights and early mornings, we went live at 5:47 in the afternoon on 21st August.
One year on from the website going live, I am proud that Tinig UK has been there for Filipinos during the pandemic, particularly for our frontline workers who were the worst affected among all of us. It has also covered many diverse stories about the Filipino community that we would not have been able to read elsewhere.
Responding to gaps in information
While the British media and other Filipino media outlets mainly reported on the deaths of Filipino healthcare workers, Tinig UK aimed to provide data, context and original analysis about the situation.
With the help of volunteers, we sifted through multiple official, local and national news and social media sources, creating a timeline to capture the key moments that took place within the Filipino community. This took note not only of the heart-breaking points but also of the different positive responses to this crisis.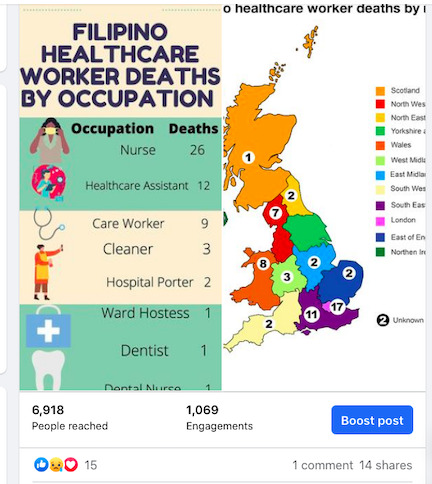 We examined publicly available data to map out the job roles and location of Filipino healthcare workers who had died, providing a broader picture of the issue. We also highlighted the data gap about Filipino nurses in the UK and the consequent challenge of measuring the true force of the pandemic. These efforts seemed to have an impact: our work was cited by Filipino nursing leaders working for the NHS, by academics, the media charity Internews, and the Daily Mail.
Making a difference to Filipinos in healthcare
In our first year, we focused our efforts on telling the stories of Filipino frontline healthcare workers as they formed the largest part of our community and had suffered the most during the pandemic.
Through close collaboration with Philippine Nurses Association UK (PNA UK) and Filipino Nurses Association UK (FNA UK), as well as other leading figures in nursing, we covered such issues as the ban on healthcare workers leaving the Philippines and vaccine hesitancy among healthcare workers and the wider Filipino community. Another important part of our work was providing research support to Filipino nursing managers in the NHS in their efforts to understand why many of their Filipino colleagues died of coronavirus.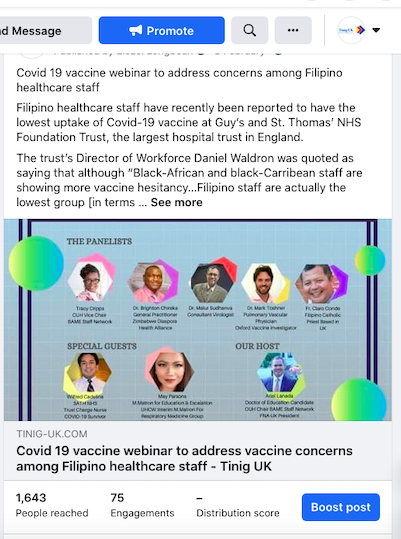 We listened to the distressing stories of younger Filipino nurses who were assigned to work with Covid patients. Despite their fears and worries for themselves and their families back home, they steeled themselves to carry out their roles. In a private message sent to me by one of them, they thanked us for giving them a chance to speak out and share their stories.
Indeed, we chronicled how the Filipino nursing community evolved – and thrived – over this challenging period. We wrote about the launch of FNA UK, the first annual convention of PNA UK, the recognition of Filipino nurses by award-giving bodies and the UK government, and the historic role that Filipino nurse May Parsons played in administering the first Covid vaccine in the world outside clinical trials.
Covering diverse stories
Although many of our efforts have been spent on the stories of those working in healthcare, we made sure to also tell the stories of families, young people, artists, and businesses too.
We spoke to young Filipino parents about how they were coping with the closure of schools at the height of the pandemic. One parent told me after the interview that she felt a sense of release after sharing her story as a young mum dealing with the lockdown.
We interviewed officers of Filipino university societies to find out how they continued to maintain a sense of community through online meet-ups. We would like to write more about young people and their experiences and views in the coming months.
It was also essential for us to write about Philippine history, arts and culture, as immigrants far away from our homeland.
We gave our readers an interesting read about lesser known historical links between the Philippines and the UK as well as ten questions Filipinos often get asked by Brits and kababayans alike. Historian George Borrinaga's piece exploring Samar and Leyte folksongs that talk about Rizal's death, and our interview with pioneering Filipino playwright Ramon Tenoso are in fact the two most read stories from our site. In the coming weeks, we hope to put culture and the arts at the top of our agenda.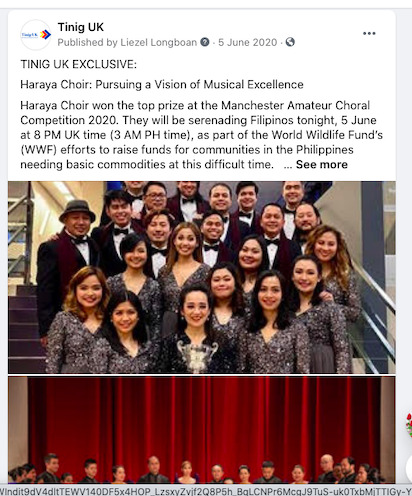 Amidst the gloom, we featured the achievement of the Haraya Choir, perhaps the Filipino community's best cultural ambassador in the UK. Trying to make Filipinos more visible in the UK through her art, we wrote about Rhine Bernardino's Where I'm Coming From project and its efforts to spotlight 'invisible' migrant communities.
Businesses and seafarers
Speaking to chef Zosima Fullwell in Manchester, we were inspired by her efforts to prepare meals for Filipino NHS staff while promoting her highly recommended banana ketchup. Another business we featured was Pooten Forwarding which told us about the challenges they faced and how they continued to run their business despite lockdown restrictions.
We also covered declining remittances from the UK and more recently, the job prospects for Filipinos wanting to come to the UK.
Apart from the healthcare sector, another important group we wrote about was Filipino seafarers who have also been badly affected by the economic slowdown brought out by Covid-19. We covered the sad plight of seafarers stuck for months on ships, waiting endlessly to be repatriated to the Philippines.  
A solutions-based approach to journalism
In the coming months we hope to build on what we have done so far, and take it further. I recently joined the Constructive Journalism for Covid project being run by Bournemouth University. They are showing us at Tinig UK how we can try to make an even greater impact in future.
Research has shown that many readers were disconnecting from the news because of Covid-19 information fatigue, saying the negative coverage was affecting their mental and physical health. The study also reveals that participants feel solution-oriented stories could help them imagine a better world – and take action.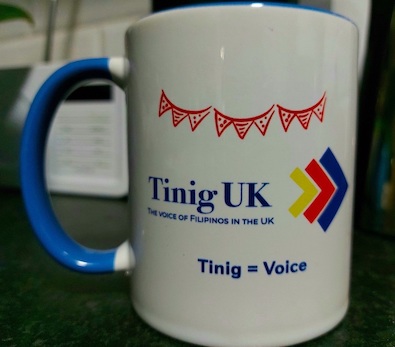 So in the coming months, we will be redesigning our website and expanding our coverage of culture and business while tackling the issue of mental health. Please get in touch if you have interesting stories to share on these topics. Email us if you would like to write for us – we are always looking for new contributors, writing in either English or Filipino.
So this is how it came about. Looking at what our team have achieved in just one year, I cannot help but feel inspired by the power of collaboration and inclusion. Without our amazing volunteers, partners and collaborators – and especially you, our dear readers – our work would be without any meaning.
Maraming salamat po sa tiwala at suporta!