The world's largest media development and assistance charity, Internews, has praised the work of Tinig UK in its report looking at how its Covid-19 Rapid Response Fund is helping the work of media organisations from more than 40 countries.
"The UK Filipino community did not have an online news site dedicated to their interests and needs, until Tinig UK launched with Rapid Response funds," Internews says.
Tinig UK's original analysis of the data behind UK Filipino's Covid-19 deaths has been used by Filipino managers within the NHS. The site has also brought the seldom-heard voices of Filipino communities into the spotlight.
Tinig UK is one of Internews' more than 180 grantees, "most of whom sought funding so they could provide content for marginalized communities who faced language barriers, stigma, or other obstacles to receiving information."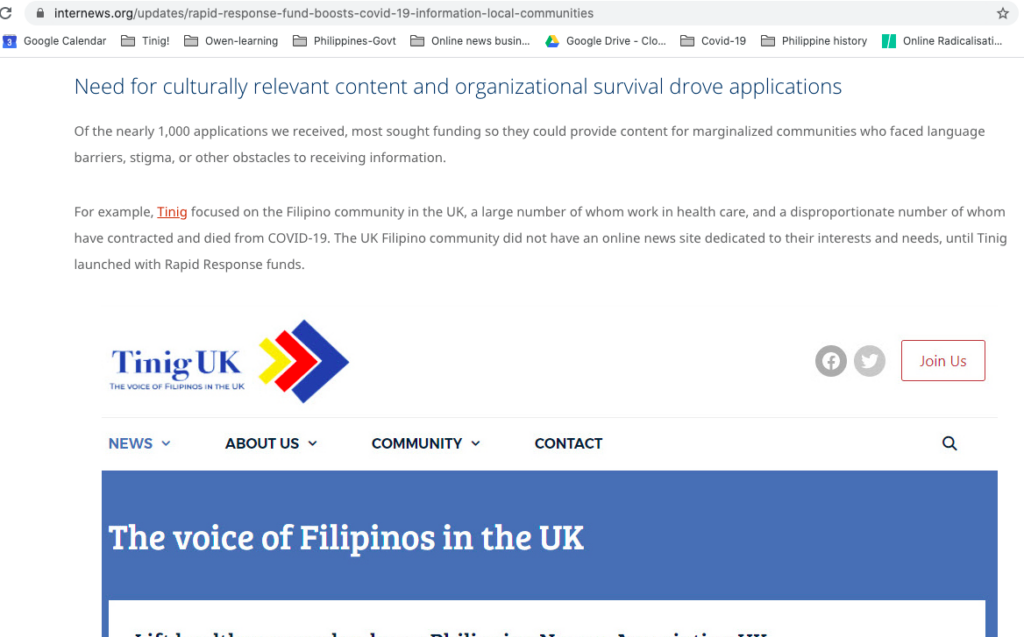 The news site is run by Filipino and British volunteers working alongside each other to deliver high quality content to the Filipino community. They work in various sectors: international development, business, communications, marketing, hospitality, and academia.
Since it started in May as a Facebook page, Tinig UK has been covering news related to Covid-19 and its impact on the Filipino community. It launched its website on 21 August. Other sections of the site include business, features, migration and Philippines-focused news.