On December 8th, the world watched as May Parsons, a British-Filipino senior nurse, administered the first Pfizer/Biontech Covid-19 vaccine to 90-year-old Margaret Keenan at University Hospital, in Coventry. Parsons spoke to Good Morning Britain about the experience saying, "It was all positive for me. The fact that we're able to offer the first vaccine today, it's a positive historical event and I'm so proud to be able to contribute to that positive step towards stopping this pandemic."
Parsons has worked at the NHS for the last 24 years and has been at the University Hospitals Coventry and Warwickshire since 2003. Originally from the Philippines, she sent a message of pride for Filipino workers in the UK and around the world that "we can make a difference and with our positive contributions to humanity. I think it's a historical event for Filipinos all across the globe, making sure we're proud of what we've achieved and the care that we give. I'm very proud to say that I'm a Filipino British today making history."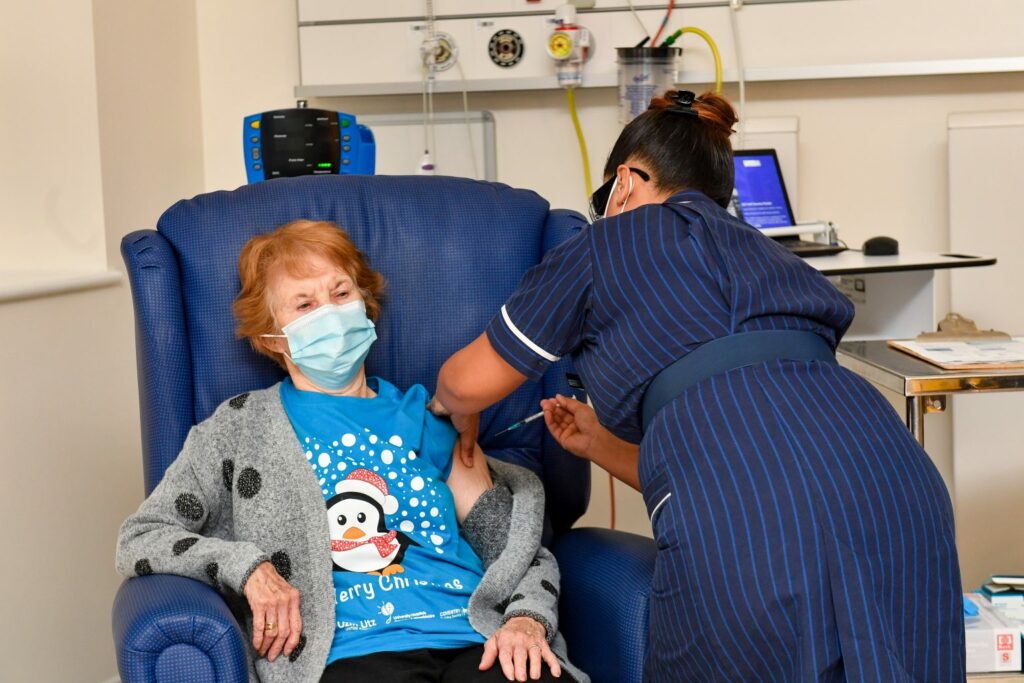 Currently, there are over 22,000 Filipinos working in the National Health Service in the UK, the second highest number of foreign workers in the NHS. While Parsons' tribute recognizes the contribution of Filipinos, it is also a moment to remember the significant number of Filipino NHS workers who have died from COVID-19. During the height of the pandemic in late April 2020, more than 20% of the health care workers that died from coronavirus in the UK were Filipino.
But just one day before the historic vaccination, a Filipino-British healthcare worker, Adela Baldwin-White, 47, passed away from Covid-19. Her husband, Lawrence Baldwin-White, 65, expressed he wished his wife had been able to take the life-saving vaccine before she got ill. "I think it's definitely better than the alternative. I know it's an unknown, but the alternative… is to have to go through what myself and (their son) Eric are having to go through now."
Adela was known as a "caring" and "irreplaceable" worker, a sentiment echoed by many when describing their Filipino colleagues. The Philippines is the largest source of foreign nurses worldwide, who have a global reputation for being hospitable and hard workers. Yet, the disproportionate number of deaths of Filipino health workers in the UK points to the larger inequalities that affect vulnerable migrant workers, shown in the latest UK government BAME COVID-19 report.
"Filipino workers are doing a lot of work, a lot of shifts, a lot of hours in the frontlines in order to send money back home and to pay for our visas, which costs us the world," said Francis Fernando, founding director of the Filipino Nurses Association UK, in a Channel 4 documentary called "Is Covid Racist?" He goes on to say, "I believe that some of our members are not treated fairly. I believe they really don't have a choice. That they are fearful that if they don't do what their managers ask them to do, their visas will not get renewed and their visas will not be extended."
The government says it has provided a national risk assessment policy to address the risks BAME healthcare workers face but there are reports that assessments are not being done by employers. While the vaccination provides hope that healthcare workers will finally get the protection needed to be safe in their workplaces, it comes to late for too many Filipinos.
Related stories:
My Covid-19 story: Discovering strength in solitude
My Covid-19 story: Finding one's inner strength amidst death and despair
My Covid-19 story: A young dad, his prayers and a diary
My Covid-19 story: Finding one's purpose amidst the pandemic