by Ronan Cameron-Carter and Liezel Longboan
Over 300 participants from 17 countries attended the Philippine Nurses Association (PNA) UK's first ever World Café Convention on 24 October, Saturday. Hosted online due to Covid-19 restrictions, the event attracted attendees from the Philippines, the UK, and the US, among several locations.
Nurses as researchers
With the theme "Nursing the world to health", the event aimed to showcase Filipino nurses' "yearning and ability to improve the quality and the standard of the service we provide through research," according to Cielito Caneja, convention director. Caneja is a nurse researcher, author and chairperson of Filipino Unite, a non-profit that provides support services to UK-based Filipinos affected by Covid-19.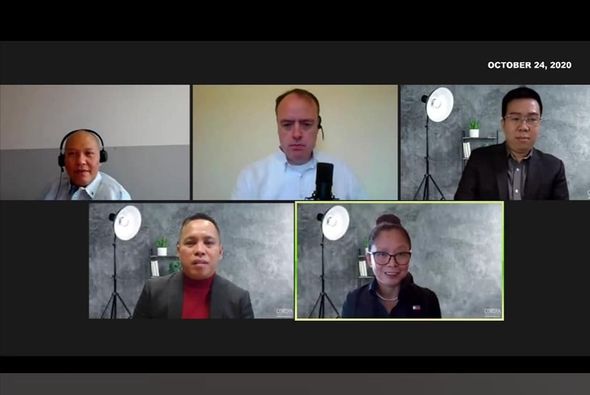 "We were inundated with research studies and audit projects which proves Philippine nurses should not just be known for our smile, compassionate and tender-loving care, entertaining karaoke voices, adobo and spring rolls- but also for our intelligence," said Dennis Singson, event co-chair, in his closing remarks. Singson is an advanced nurse practitioner and a mental health specialist.
The convention winners were Leo Almerol (Bedfordshire Hospitals Foundation Trust) with his paper, "Safety & efficacy of vascular access devices in patients who inject drugs."
Aldons Chua, Maria Ravelo and their colleagues from East Sussex Healthcare NHS Trust won for their paper Thyroxine Absorption Test Protocol for hypothyroid patients on high dose thyroxine replacement: an audit." The third winning paper was by Jed Patrick Catalan from the Philippines "Still forgotten: Perception and situation of senior Filipino gay men living with HIV."
All their papers have been published in The Physician's Journal, an open access international journal for healthcare professionals.
Praise for Filipino nurses
In her keynote speech, Yvonne Coghill, former director of the Workforce Race Equality Standards (WRES) and deputy president of the Royal College of Nursing, recognised the value of Filipino nurses to the UK healthcare sector. "Nurses and nursing are the most precious commodity that we have in our health service here in England…Filipino nurses are core and a key backbone to the services that we have in our NHS and social care across the UK."
She also reminded everyone of the disproportionate number of deaths of healthcare workers of colour and how more needs to be done to avoid this from happening again. Within the Filipino nursing community, at least 57 have now died of coronavirus-related deaths, believed to be the highest of all ethnic groups in healthcare.
Globally, there are 27 million nurses worldwide, according to Howard Catton, chief executive of the International Council of Nurses, who gave a pre-recorded message to participants. As the world celebrates the Year of the Nurse and the Midwife, Catton emphasised the need to look after the mental health of nurses and the wider public at this challenging times.
While the 'Filipino nurse' is a brand known worldwide for the excellent care they provide and have a duty to uphold that reputation, Reuben Calixto of PNA America, reminded everyone that they also have a duty to look after themselves.