Pooten Forwarding International LTD (PFI) is one of the largest, and perhaps the first, Filipino freight forwarding company in the UK. It has been helping overseas Filipinos send their love to their families through cargo boxes, or balikbayan boxes, for a quarter of a century.
Covid-19 has impacted the PFI and its customers, causing sales to fall and prices to rise. The company has had to adapt and respond to numerous competing challenges on different continents. However, the business remains confident it can weather the storm.
Averil Pooten-Watan, the current manager and daughter of PFI's founders, talks about the challenges that Covid-19 has brought to the logistics industry and how the company is coping in the midst of a global pandemic.
Hard work and determination
Founded by Filipino couple Richard "Stone" Bagano Pooten and Conchita Balagtey Pooten in 1994, Averil says PFI was established to help connect people, from the U.K and the Philippines, one box at a time. The Pooten family are originally from the Cordillera region, in north Philippines.
The 'dynamic duo' created the company based on their family ideals, with the aim to be the best family-owned Filipino freight forwarding business in the global market.
"Our company today is the same as when our parents started; it remains the product of hard work and determination," says Averil. "Our company values are embodied in our family values which is to work hard and do the best you can. We have not changed those principles in 25 years, which is why our services and customer reliability remains the same."
A sector disrupted
However, aside from travel and transport, logistics is one of the industries which has been hardest hit by the pandemic, and PFI has not escaped the impacts.
Various countries, including the Philippines and the UK, have imposed travel restrictions to manage the spread of Covid-19. These new restrictions have significantly affected PFI in terms of shipping routes and availability.
"We don't want to speculate for the whole sector," says Averil, "but these events have a financial impact on goods and packaging, and logistics through shipping and haulier fees. There's also currency exchange; all of these mediums have simply become more expensive to operate."
When the pandemic reached unprecedented infection and death rates in the UK in 2020, government lockdowns also resulted in delays.
Unique challenges
Like other businesses that link the UK and the Philippines, PFI has also been hit by distinct challenges.
"During parts of 2020, we were unable to deliver or collect customers' boxes due to restrictions on movement, especially in the Philippines," Averil explains. "Most of the restrictions in the Philippines also require government passes to use roads or gain access to certain areas."
Averil adds that during the first lockdown in the UK, the demand for PFI's services fell as their customers usually put food and supplies in their balikbayan boxes. However, due to the purchase of these being limited by restrictions in supermarkets, people couldn't buy in bulk therefore customers sent fewer boxes to the Philippines.
"At the start of the pandemic, during the first lockdown, we had to cease operations completely, for over a month" she recalls, "therefore customers couldn't send boxes. However, as government guidance became clearer and confirmed that our industry was considered essential work, we returned to business."
Feeling the pressure
Since the UK government announced its most recent national lockdown all six full time PFI staff have had to adapt the way they work. "Currently, we have office staff working from home," says Averil. "However, our deliveries and collections are still continuing as this is considered essential work."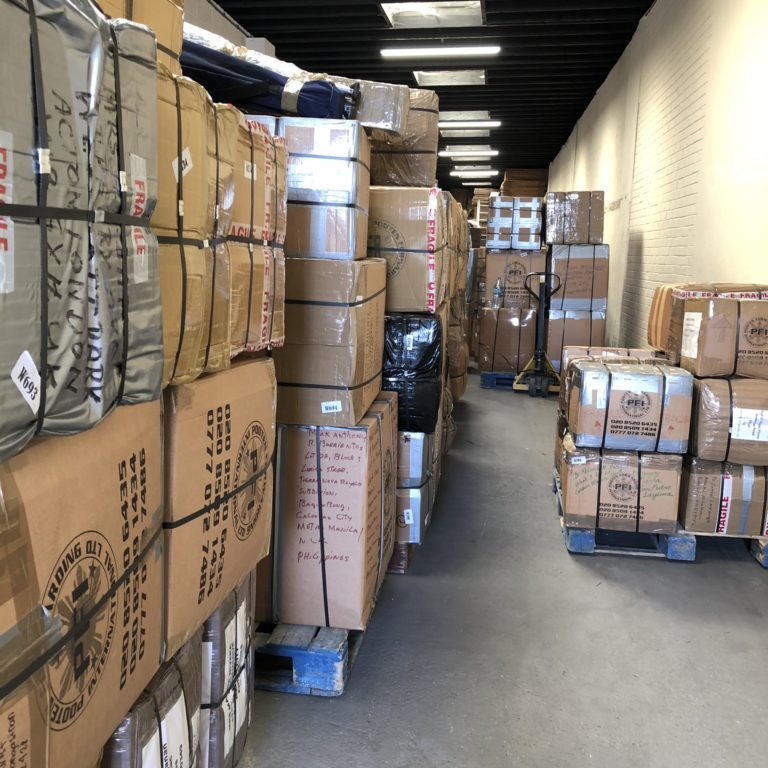 Although collection services have returned to normal, PFI sales have continued to fall sharply – down by an estimated 20% in 2020.
The company says this is due to several factors. These include customers having lost their jobs, or have been furloughed; shielding or isolating customers who are not allowed to go out and shop; and customers who contracted the virus before their scheduled collection period.
In response to the challenges posed by Covid-19, PFI has had to change how they do businesses.
Impacts on customers
"Undeniably we have seen an up to 25% increase in all expenses, like petrol, packaging, shipping, and currency exchange, as a direct result of Covid-19 and Brexit," says Averil. "This unfortunate rise in costs means we have had to raise our prices slightly and adjust some of our promo offers."
However, PFI remains confident that it will weather this storm and continue to support Filipinos as they send their precious cargos to loved ones.
"We consistently strive to remain as competitive as possible, says Averil. "We know our customers deserve the best price offering we can give."
A note from Tinig UK: In 2018 one of our managing team made a documentary for the BBC about remittances, which includes a section all about balikbayan boxes. You can listen to it here.