Research by Anoop Bhuller.
Filipinos have been one of the communities worst-affected by Covid-19 in Britain. Those working in healthcare have been particularly vulnerable to contracting and dying from the virus. But understanding the data behind the deaths is not an easy task. This is what we know so far.
How many UK Filipinos as a whole have been affected by Covid-19?
For the Filipino community as a whole, the latest data released by the Philippine Embassy shows that 573 Filipinos have contracted coronavirus in the UK. Of these, 147 have recovered from the disease while 78 have died. Meanwhile, there were 348 active cases as of 20 June – the most recent date we have figures for. Tinig UK has requested for the most recent data from the Embassy but has yet to receive a reply.
So how many Filipinos work in the healthcare sector?
We can't say for sure. While there are thousands of Filipinos who work in the National Health Service (NHS) and in the care sector, there is no definitive data on precise numbers of Filipino healthcare workers in the UK. As of May 2020, NHS England counts 22,043 Filipino staff. However, the figure could actually be much higher as it excludes Wales, Scotland and Northern Ireland. Filipinos make up the third largest nationality in the NHS after Britons and Indians.
We know that black, Asian and minority ethnic (BAME) groups are significantly overrepresented in the healthcare sector in England. 40% of doctors, 20% of nurses and 17% of social care staff are from BAME groups.
But when it comes to Filipino nationality, things are less clear cut. For instance, 3.7% (47,671) of NHS workers have "unknown" nationality. Some of those who may have ticked "unknown" are Filipino staff who chose not to reveal their nationality out of concern for the potential or imagined negative consequences of doing so.
Also, the term "nationality" itself has not been strictly defined by the NHS. The NHS report on its overseas staff says that the term could be interpreted as either citizenship, country of birth or cultural heritage. Hence, it is possible that some nurses of Filipino heritage may have self-reported themselves as "British" or other categories to reflect their citizenship, rather than "Filipino" to indicate their country of birth.
In their workplace data reports, the NHS also use either "nationality" or "ethnicity" which can be confusing both for staff and the public.
And even when nationality or ethnicity is known, Filipinos might not always be counted. Official NHS healthcare staff figures exclude contracted out staff, GP practice staff, independent healthcare sector workers or those working in social care – many of whom are Filipinos.
Plus there is no available data for Filipinos working for private health care providers.
So how many healthcare workers as a whole have died?
A review of Covid-19 data by Public Health England revealed that more than 10,000 nurses, midwives and nursing associates have contracted Covid-19 since the start of the pandemic. The rate of infection among nurses was highest among Asian staff (3.9%), followed by other ethnic groups (3.1%), white (1.7%) and then black and mixed ethnicities (both with 1.5%).
The latest official figures show that 312 NHS and care workers have died from Covid-19. Prime Minister Boris Johnson shared this data himself during Prime Minister's Question Time. Of all the UK nations, only Scotland publishes figures of NHS and care worker deaths online.
What data do we have on Filipino healthcare workers who have died?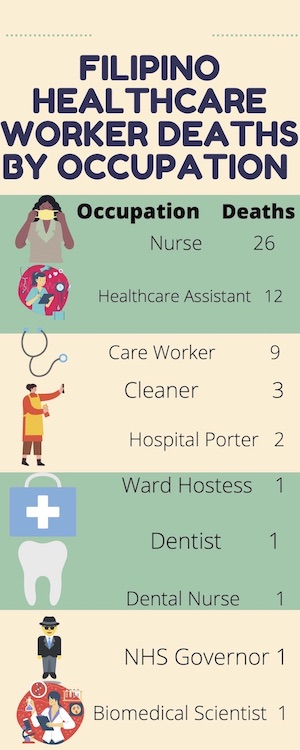 As of this writing, a total of 57 Filipino health workers have died of unconfirmed causes. Although Filipinos only make up the third biggest ethnic group within the NHS, they have the highest number of deaths among NHS staff – based on news reports. Up to now, there has been no explanation as to why Filipinos appear to have been more vulnerable to dying from the virus as compared to their white British and Indian counterparts, the top two biggest ethnic groups within the NHS.
Official numbers are also hard to come by. There is no official data available from the NHS or the Philippine Embassy. Information on ethnicity does not have to be legally recorded on death certificates in the UK. Researchers have asked for information on ethnicity to be collected on death certificates as it is now clear that people from BAME backgrounds are being disproportionately affected by the pandemic.
In the absence of official data on Filipino healthcare deaths, we have looked at local and national newspaper reports and social media posts to pull together some information about the 57 healthcare workers who have died.
What do we know about the Filipino healthcare workers who died?
We know that many Filipino healthcare staff were employed in diverse roles. But almost half of them were nurses. Next to nurses, healthcare support workers were the second biggest group to die from Covid-19, followed by carers.
Where were they based in the UK?
According to our analysis of data, most of those who died worked in London (17) and the South East of England (11). This reflects data from the NHS Workforce Race Equality Standard (WRES) which shows that BAME staff are concentrated in London (43.9%) and South East England (17.8%). Although the Midlands also has a diverse workforce (with 18.6% from the BAME community), only 4 Filipino healthcare workers died in this region.
How is data gathered on Filipinos who contract and die from coronavirus?
There is no formal way of collecting data about Filipinos who contract or die of Covid-19. Filipinos generally inform the Philippine Embassy if they or their loved ones have contracted coronavirus, or if any member of their family has died because of the disease. As for healthcare workers, information is informally collected by Filipino nursing leaders through their own networks, social media posts, the Philippine embassy, and news reports.
If you would like to report about a Filipino – healthcare worker or not – who has been taken ill or has died because of coronavirus, please get in touch with the following: